Symptoms of Toxic Mold Exposure

Symptoms of toxic mold exposure vary depending on the type of mold, but diseases caused by toxic mold can include asthma, severe allergies and respiratory tract or lung infections. In some cases, symptoms can be quite severe. Death is rare but fatal asthma attacks and lung infections can occur.

Common Symptoms of toxic mold exposure
Respiratory symptoms of mold exposure include coughing, sneezing, runny nose, difficulty breathing, worsening of asthma symptoms in people with asthma or the development of asthma in people previously unaffected by the disease. Other diseases caused by toxic mold include respiratory tract infections such as bronchitis and chronic sinus infections. Infections in the lungs may also result from prolonged exposure to toxic mold. Other symptoms frequently caused by exposure to toxic mold include itchy and watery eyes, dizziness, fatigue, depression, difficulty concentrating and short-term memory problems.
Young children, elderly people and people with compromised immune systems, such as those with HIV or AIDS, are more susceptible to diseases caused by toxic mold although anyone can develop symptoms after sufficient exposure. People that already suffer from respiratory problems, such as those with asthma, seasonal allergies, emphysema or chronic obstructive pulmonary disease are also particularly vulnerable to symptoms.
Treatment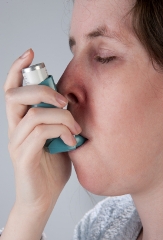 In some cases, symptoms can be quite severe so if you think you may have symptoms from toxic mold exposure, you should see a doctor for a diagnosis and treatment. Respiratory infections generally require antibiotics. Decongestants, medicated eye drops, cough syrups and other prescription or over the counter medications can help relieve respiratory symptoms.
Other symptoms, like depression, poor concentration and chronic fatigue, are a bit more difficult to treat. Removing all traces of toxic mold from the home is your best bet for relieving those symptoms, and they may take a while to improve. If depression is severe, though, you should see a doctor. The depression may be caused by something other than the mold in your home, and regardless of the cause, you may need treatment for it.
Removing Toxic Mold from the Home
To rid yourself of diseases caused by toxic mold, you'll need to remove the toxic mold from your home. Some people attempt to remove mold from the home on their own but if the mold in your home is making you ill, we recommend calling in a professional. If you don't locate and remove all traces of mold, you'll continue to have symptoms and in fact, symptoms of toxic mold exposure often worsen over time.
Toxic mold can grow in many areas of the home, although basements, laundry rooms, leaky roofs and below sinks with leaky pipes may be the most common areas. If anyone in your home is suffering from symptoms of toxic mold exposure, you should inspect the home thoroughly for signs of mold. Better yet, call in a professional to check for toxic mold for you. Professionals that handle toxic mold clean up often offer free assessments and free estimates.
Getting Professional Help
If you suspect you may have a mold problem, don't delay in contacting a professional because toxic mold can grow rapidly. Prompt action on your part can limit your symptoms and the amount of damage the mold does to your home. Just follow this link to get a list of qualified Mold Removal Professionals in your area that will visit your home for a free assessment of your situation. Remember, though, even if you get the mold cleaned up, you may need medical treatment for symptoms of toxic mold exposure or any diseases caused by toxic mold.
Additional Reading:

Follow this link for more information on mold exposure symptoms and the potential long-term mold health effects that mold symptoms can lead to. Toxic mold symptoms will worsen over time, so if you are suffering from any mold health issues, or have a mold smell in your home, don't wait. Mold sickness and the health effects of mold can be very dangerous. You can follow this link for more information on the dangers of mold, and for more symptoms of mold exposure to be wary of.
If you have a weakened immune system, exposure to indoor mold can lead to more serious issues.

---
Return From Symptoms Of Toxic Mold Exposure To Our Black Mold Health Symptoms Home Page