Attic Mold Story

This attic mold story explains and shows everything from the discovery of the mold, to the step-by-step remediation, to the final finished mold free attic. Fortunately I took a lot of pictures. Here is my mold story:


Attic Mold Removal Start To Finish With Pictures
One day in mid March 2011 I went into my attic and when I shined my flashlight onto the ceiling I was shocked to see mold. It had no smell in my case, but it was one of those surreal events I still can't believe.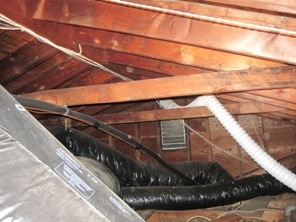 After some testing it was determined that this was Aspergillus/Penicillium mold, and I did not have black mold, which was a relief. Still I was told that all molds are unhealthy, and if I did not clean it properly that eventually a toxic mold would probably start to grow. Obviously it had to be removed, especially since I have two small kids.
After meeting with several qualified mold removal specialists, I selected one that seemed the most qualified. They only did mold and water damage remediation, and they gave me 30 references of recent jobs they had done. All of their references had great things to say. One of the other remediation companies even said to me if you don't select us, make sure you use them. By checking with consumer affairs I learned that there are a lot of companies that remove mold, but only a few that really know what they are doing. Fortunately for me I found a really good one. I got the estimate in writing, and the next step was to contact my insurance company. This is where my attic mold story gets scary.
Around this time, my daughter started getting hives all over her body, and her cheeks were getting very red and hot. While at the doctor having that looked at, it was discovered that she was wheezing. They told us to give her zyrtec for the hives, an antibiotic for the wheezing in case she was getting bronchitis, and an oral inhaler called xopenex.
I immediately scheduled the remediation work and called my insurance company. I explained my attic mold story to them, and they said someone from their "Mold Department" would contact me within 24 hours. The next day I got a call from them, and explained my attic mold story again. The insurance mold specialist told me he wanted to come take a look. Unfortunately he was 4 hours away and couldn't come for 2 weeks. I explained that my daughter was having mold symptoms and I couldn't wait, so he told me take a lot of pictures because if I couldn't prove my claim, I wouldn't be covered.
By the way, mold coverage is not standard in all insurance policies. If you don't have mold coverage, call your insurance company and add it to your policy.
The only entrance to my attic is through a small space in the ceiling of the master bedroom closet. If they had to do all this work going through my closet, my house would have been a disaster, and you could only imagine the huge mess. Fortunately my contractor suggested going through the side of my house. Check out these pictures.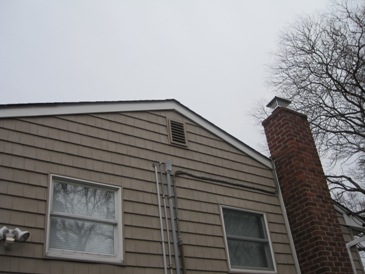 Here is the side of my house (above picture) before they started the work. Also below is a picture of an AC vent in my ceiling. My air conditioning system is in the attic, and as part of the job they replaced all the duct work because it was contaminated by the mold spores.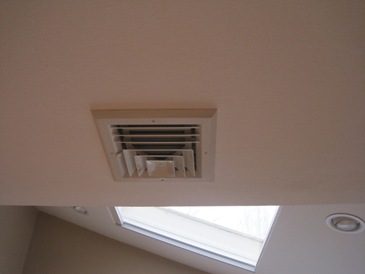 The first thing they did was to take all the AC vents out of the ceiling and cover the holes with plastic to make sure none of the mold got into the house during the remediation process. They also covered the AC return vent, and all the hi hats leading to the attic.

Now it was time to open the house up and get to the attic.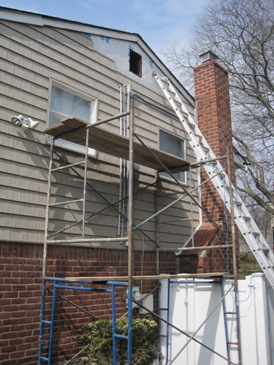 Below is the negative air machine. Basically this sucks air out of your home while they are working. That way if any mold becomes airborne, it will be sucked out of your home instead of possibly finding its way into another part of you house. It went in my attic and a tube vented the attic air out. This machine was used whenever they were working in the attic.

All of the insulation and duct work were double bagged, and then removed from the attic.  The remediation company disposed of all the moldy material.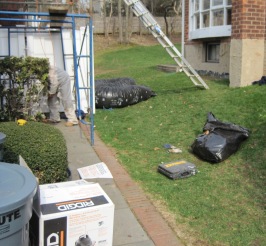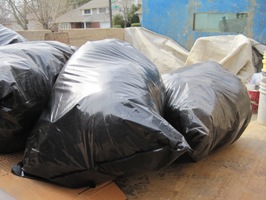 After all the mold was removed, the attic was thoroughly cleaned with a hepa vacuum.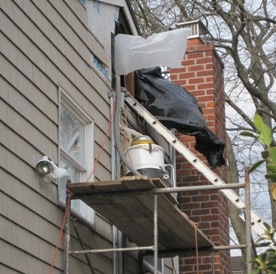 After the attic was thoroughly cleaned, they next encapsulated everything. We had a choice of using a white or clear encapsulate. We went with the clear because we felt the house would be easier to sell in the future with clear. The white is like a warning flag that the house either had mold or a fire, while the clear is not that noticeable once it ages.
Next the remediation company put an air scrubber into our attic to clean the air for a few days in case any mold spores were airborne. We then had some air tests conducted by a professional air tester, and determined that all the mold had been successfully cleaned. One thing I learned in this process is to definitely use a professional air tester. They were able to give me advice during the whole job, and helped to supervise the contractor. I kind of felt like I had a specialist overseeing things that I knew was on my side. Also, the insurance covered his fees, but insurance won't cover a home test. I also learned through this process that none of the home tests are that accurate.
Below are pictures of my attic after everything was done. As you can see all the wood has a thick coating of encapsulate.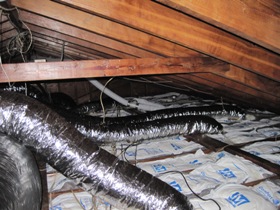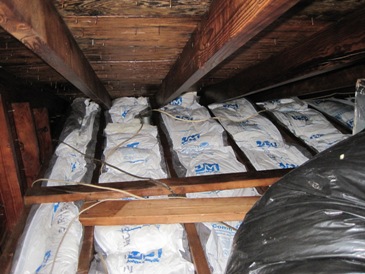 Some of the wood actually got stained from all the mold. You can see some of it in the pictures. Eventually when we redo our roof in a few years, we will replace the wood planks.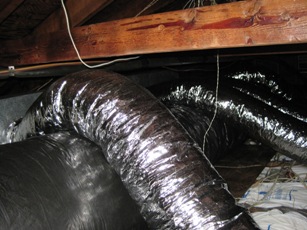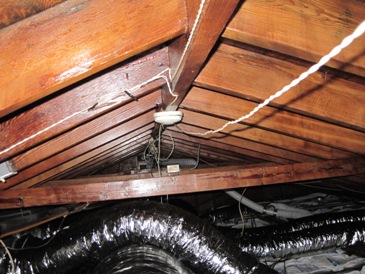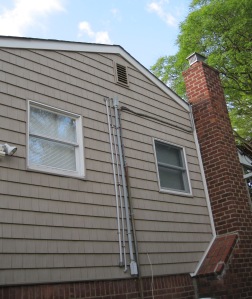 Next they closed up the side of the house (picture on right), removed all the plastic covers from the hi hats, and put the AC vents back up. They thoroughly cleaned the AC vents with a biocide. They also used that biocide to wipe down the closet in the bedroom that leads to the attic, and all the walls and ceiling in the bedroom. They hepa vacuumed the bedroom, and now it was finally over.
We had all the clothes in the closet dry cleaned to make sure any mold that got on them was killed, got all new hangers, and over the next couple of days got the house back in order. Finally this ordeal was over.
One last thing we did was have a solar fan put into the attic to get better circulation so we never have this problem again. We had a fan in the attic already, but it only worked in the summer when the temperature was very hot. This solar fan gave us air circulation all year round. The solar fan is the black one on the left.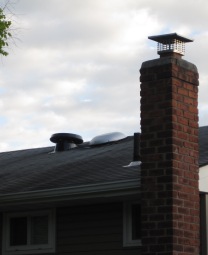 Thats my attic mold story. Hopefully reading this attic mold story will help others know what to expect if they have mold, and help make sure the cleanup is done right.
If you have attic mold, remember your health and your families health is at stake. Use a professional, get the job done right, and you will not have to worry about health problems in the future. My daughters symptoms cleared up about 2 weeks after all the cleanup work was done. You can follow this link to get a list of licensed Mold Removal Specialists in your area.


Click Here To Read More Stories, Or Submit Your Own Story
---
Return From Attic Mold Story To Black Mold Health Symptoms Home Page