The Homeowners Complete Guide
To Performing Mold Remediation Ebook

If you found mold in your home you already know you have a serious problem.

If you are going to remove that mold yourself, you must do it correctly or it can harm your health.

Mold expert Brian Turner wrote this ebook to help the homeowner with no knowledge about mold, safely and effectively remove it.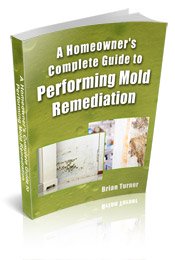 What's in the book?
Step-by-step instructions on how to safely and effectively perform water damage and moldy materials removal work on walls, floors, ceilings, attics, crawl spaces and HVAC systems.

Chapter One - talks about common indoor mold, how it spreads and the health effects associated with breathing in mold spores.
Chapter Two - discusses mold odors, finding the mold, and mold testing.

Chapter Three - outlines safe work practices, such as isolating and containing work areas, using negative air filtration, and wearing personal protective equipment.
Chapter Four - describes the specific procedures to follow in order to perform safe and effective mold remediation work in your home.
Chapter Five - outlines what to do if you have mold in your HVAC system.

Chapter Six - discusses mold prevention strategies so that you can be sure the mold will not return.
Who Is Brian Turner?  
Brian Turner has performed hundreds of mold investigations as a senior investigator in a leading New York City environmental consulting firm. He has over 20 years of experience dealing with mold investigation and cleanup.

Brian Turner was actively involved in the New Orleans area hurricane Katrina relief efforts, including writing and co-producing a training video entitled Mold Clean-up Guidance for New Orleans Area Residents Affected by Hurricane Katrina, which has been adopted by the World Health Organization.

Mr. Turner holds certifications as a microbial, lead, and asbestos inspector and is a LEED (Leadership in Energy and Environmental Design) Accredited Professional.

Mr. Turner has bachelors and masters degrees in chemistry, both from New York University.

With 100% Money-Back Guarantee
From Amazon.com
What will this book will teach you?

Why is mold dangerous, where did it come from and how does it spread.
How to find mold in your home, including hidden mold.
How to prevent the mold from cross contaminating other areas of your home during the removal process.
What you need to protect yourself from mold exposure. Remember touching or breathing in mold is very dangerous.
Cleaning protocols to safely and completely remove the mold from all areas of your home.
What can be saved and what needs to be disposed of.
Clues that mold may be in your HVAC system. How to find and remove mold from your HVAC systems and ductwork. 
Mold prevention strategies to keep mold from coming back.


Mold is very dangerous.  Exposure to mold can cause asthma, headaches, dizziness, and nausea, depression, autoimmune conditions, cancer, & stillbirths.
Testimonials
Thank you Brian for writing such a thorough and easy to follow book. I never could have gotten through this nightmare without it. Without your easy to follow directions I never could have found all the mold and removed it without spreading it to the rest of my house.

-Mindy Warner, Lancaster PA.

---
Your book saved me thousands of dollars! After finding mold in my basement, I got quotes from remediation companies ranging from $6000 - $8000. They really scared me telling me how dangerous mold was, and how difficult it was to safely remove. Your book showed me it wasn't that hard at all to remove the mold, and certainly not that expensive. Once I knew what I was doing, I was able to do it all for under $500. I couldn't have done it without you.
-Andy Rutlidge, Huntington Beach, CA.

---
Mold was making us sick for years and we didn't even know it. After reading your book, we realized what we were dealing with and were able to find the mold in our central AC system and attic. Your book showed us everything we needed to do, and now we are finally living mold free. I can't tell you how much of a relief it is to feel safe in my own home. My 5 year old daughter Samantha is feeling so much better since we removed the mold. I honestly feel like we saved her life. 

-Peter Morris, South Haven, LA.

---

Brian I wanted to thank you for showing us the correct protocols for getting rid of mold. We have had mold in our home before, and every time we cleaned it up, it would just come back. My husband thought he knew what he was doing since he is in the home improvement industry, but after reading your book he now realizes the basic mistakes he kept making. We were cleaning up the visible mold, but at the same time we were cross contaminating other areas of our home. Your book showed us how to find all the "hidden" mold, and how to be sure we got it all. Thank you so much!!

-Jill Shoreman, Campbellville, Ontario, Canada


No False Promises
Removing mold is not easy. It will require work on your part.
Individuals performing mold remediation work should be in good health, and mold remediation should not be performed by individuals who suffer from asthma or allergies or have compromised immune systems.  
This book will show you how to safely remove all the mold from your home. If your not completely satisfied, Amazon offers a Full Unconditional Money Back Guarantee.
 
Buy
 The Homeowner's Complete Guide to Performing Mold Remediation
Today For Only
$9.99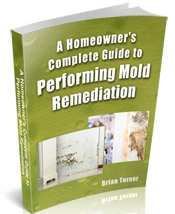 Pay Securely & Download Instantly

And Don't worry because you have a...
100% Money-Back Guarantee
If for any reason you are not 100% satisfied with your purchase,
Amazon will refund your money No Questions Asked.
You risk nothing. That's how much we believe in this book.

Nothing To Return
No Questions Asked
100% Risk-Free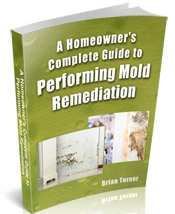 Black Mold Health Symptoms Home Page