Removing Black Mold

If you find a mold problem in your home, it is important to begin removing black mold immediately in order to prevent health problems that are associated with mold. It is common for people to not understand the importance of a black mold treatment plan, and they may unknowingly put themselves in danger because they put off the chore or use the incorrect cleaning process.

There are many negative health effects related to black mold, such as: sinus problems, breathing difficulty, digestive issues, headaches, dizziness, fertility problems, autoimmune diseases, and even cancer. If you suspect that mold is present, it is a good idea to have a mold specialist do some testing in order to verify whether or not mold problems are present.

Removing Black Mold From Porous Materials
A black mold treatment plan can be quite expensive, and you may start to think about shortcuts to cut costs. Don't skip any steps for this cleanup process, because it may result in mold continuing to grow within the home and causing harm to your health.
Porous building materials are commonly affected by mold problems. These types of materials include carpet, curtains, linoleum, paint, drywall, insulation, and wood. The porous nature of these materials means that mold can infiltrate deep within the material. So, when removing black mold, these items must be thrown away and replaced with brand new products.
If the mold has affected the wooden structure of a building, you should consult with a mold specialist to determine if the structure can be saved. Often, black mold treatment may involve encapsulating or sanding down the wood to get rid of the mold and then sanitizing it with a biocide. If the proper treatment is used, the wood may be safe to leave within the building. Sanding down moldy wood though can be dangerous and should only be done by trained remediation professionals.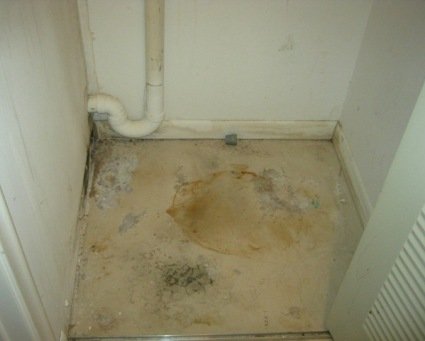 Black mold on walls, floor and door of linen closet.

Killing Black Mold
After everything has been cleaned up, you are not finished removing black mold until everything has been scrubbed down with a wire brush and sanitized with the biocide. Mold spores are microscopic, and they can still be present even if the area looks clean. Don't been fooled by the appearance though, because using the biocide is a necessary black mold treatment in order to kill any remaining spores.
Also, the area should be completely dried out before the remodeling process begins. Using a fan and a dehumidifier can be the best combination to get rid of any existing moisture. Before rebuilding, bring in a mold specialist to test the area in order to be sure that the black mold treatment process was effective in getting rid of all of the spores. You can follow this link to get a list of local Certified Mold Testers.
Safety Measures to Consider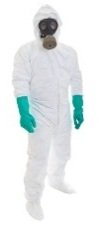 Because black mold exposure can be so toxic, it is important that you are very careful while removing black mold. Wear protective equipment such as a face mask, eye goggles, protective biohazard suit and rubber gloves to protect yourself from additional exposure. Also, be sure to contain the area with plastic sheets to prevent cross contamination to the other rooms in the building. A negative air machine and air scrubber can be used to clean up any mold spores in the air.
When it comes to mold cleanup, we always recommend using a professional. There is no reason to take any chances doing the cleanup yourself when the health and safety of you and your family are at stake. A professional will know which treatments should be used for removing black mold in the specific areas of your home that are affected. These professionals have plenty of experience working with various types of mold problems, and they have the knowledge and equipment necessary to do the best possible job.
Most mold removal professionals offer free consultations so you can meet with them, discuss your situation, and decide whether or not you want to hire them. The consultation should include an inspection of your home to locate all the mold, determine the extent of the problem, and figure out the best techniques for removing mold in your case. You can schedule a free consultation even if you're not sure you want to hire someone to do the work and get some free professional advice that will help you if you decide to do the job yourself.

Follow this link for a list of professionals offering free consultations in your area.
---
Return From Removing Black Mold To Our Getting Rid Of Black Mold Page

Black Mold Health Symptoms Home Page