Mold Remediation Products

The vast array of mold remediation products on the market may both amaze and confuse you. You can purchase many, many different products to kill mold, but as you might suspect, some work much better than others.

While many of the certified mold remediation professionals advertising that they possess the necessary products to kill mold, you don't have to be a certified professional to purchase these kinds of products. However, certified professionals know which of the many products out there to purchase and, if their mold remediation businesses are successful, purchase the most effective products for each particular situation.

Products For Killing Mold
You can buy disinfectants made to kill various strains of mold at most hardware stores. However, some disinfectants work best on some strains of mold, while others work best on other strains. We suggest having the mold in your home tested so that the most effective disinfectant can be selected. You can follow this link to find qualified Testing Professionals in your area that can test the mold in your home for you. There are tests you can purchase at hardware stores to perform yourself, but unfortunately those are not very accurate.
In addition to some products working better than others on certain types of mold, some products to kill mold work better on some surfaces, like concrete walls or floors, while other products work better on other surfaces, like wooden walls or the wooden studs inside your walls. As you can see, it's more complicated than just spraying the moldy area with some bleach and water.
Purchasing Mold Remediation Products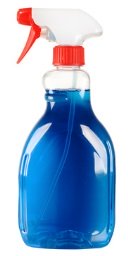 You can purchase all sorts of mold remediation products yourself at most hardware stores. Some are as effective as those used by mold remediation professionals, but some are not.
Products you can buy yourself that will work just as well as those the professionals have include rubber gloves, disposable hair and shoe covers to protect yourself while handling harmful strains of mold, HazMat suits, goggles, sheets of plastic and duct tape to cover air vents to prevent mold spores from drifting in while you're disturbing mold, heavy-duty garbage bags to seal up contaminated materials like carpet while you carry them out of the house and some disinfectant products to kill mold.
Products you probably could obtain yourself if you wanted to order them from a special supplier and spend a lot of money, but that you'll have trouble finding at your local hardware store or anywhere for an affordable price, including air samplers that test for mold in places where you can't see it but it might still be growing, swabs for testing visible mold that are significantly more effective than those you can buy at your local hardware store, heavy-duty respirators to protect yourself from inhaling toxic mold spores, negative air machines, air scrubbers, and commercial grade products to kill mold. The fact is, some forms of mold are highly toxic and also harder to kill than others.
Mold Remediation Professionals
One advantage to hiring mold remediation professionals is that they should have all the mold remediation products necessary to evaluate your home for mold, to determine what type of mold is present in your home and to safely remove the mold. You want to ask any mold remediation professional you are considering hiring about what equipment he or she will bring with him or her to your home, though, just to make sure everything needed will be available. Mold remediation professionals will usually give you advice about how to do the job yourself if that's what you decide to do. However in speaking with them, you might learn that the cleanup is a lot more complicated than you expected and better left to the professionals.

Schedule a Free Consultation with a Professional
Even if you hope to tackle the mold removal yourself, you can gain valuable advice by having a free consultation with a professional. A professional can make sure you've located all the mold in your home, advise you about safety precautions to be taken during the mold removal process, and help you determine what needs to be done in order to prevent mold from growing back in the future. For a list of mold removal professionals that provide free consultations near you, just fill out this easy referral form.
---
Return From Mold Remediation Products To Our Home Mold Remediation Page

Black Mold Health Symptoms Home Page