Mold Remediation Costs

If your home has mold, you're probably wondering about typical mold remediation costs. The fact is, mold removal cost varies depending on how much of your home is affected and on whether or not mold has damaged materials like carpet or insulation, which must then be replaced. Costs can be considerable, but it's a necessary expense since mold in your home can be so hazardous to your health.

Typical Mold Removal Cost
Many sources say to expect mold removal costs of at least $4,000, unless you have a large home with mold everywhere, in which case costs could be considerably higher. Of course, some mold remediation specialists charge more than others and the average costs are higher in some areas of the U.S. than in others. Keep in mind that mold cleanup specialists will usually offer you a free assessment so you'll know up front exactly how much it will cost. To get a free list of mold removal companies that will come to your home and give a free inspection and estimate, follow this link to our Find A Contractor page. It costs nothing to get an estimate, and the mold removal company will educate you on the removal process.
Some people try to save money by purchasing cleansers and protective gear and cleaning up the mold in their homes by themselves. They might only spend $100 to $200, and that includes the N-95 respirator masks you need to protect your airway when dealing with toxic mold. The Environmental Protection Agency recommends against tackling the problem yourself if more than ten square feet of your home are affected by mold, however. Even if the affected area is smaller than ten square feet, it's important to follow the proper safety precautions when cleaning up mold because even small amounts can be quite hazardous to your health. It may be easier to hire someone, and the added cost may be worth the peace of mind that comes from knowing the job is done right.
Additional Mold Remediation Costs
Mold spores become airborne and can travel throughout a home. Unfortunately, they can also travel through heating ducts. When mold begins to grow inside heating ducts, the ducts must be thoroughly cleaned, which is no easy task and increases the cost of the mold removal job quite a bit.
Mold often grows when water gets into a house somehow, whether it's a leaky pipe under the bathroom sink, a leak in the roof or a leak allowing water to seep in around a window. You can have the mold removed, but there's really no point paying that mold removal cost if you don't also fix the leak. If water continues to seep in, mold will just grow back in no time.
If you've got a rather minor mold problem, the mold removal cost generally just involves scrubbing the mold off the walls. If your mold problem is severe, however, mold remediation costs may also include removing and replacing carpet that has been ruined by mold; removing and replacing insulation that has been ruined by mold; or removing and rebuilding drywall or sheetrock that has been destroyed by mold. Porous materials like that can't often be scrubbed clean but must be replaced.
If you have to make lots of repairs to your plumbing, your roof or your drywall and/or replace lots of carpet, your costs will increase significantly. Large scale mold remediation jobs may cost $15,000 to $25,000 or more. In order to keep costs as affordable as possible, address mold problems as soon as you realize you have mold; the problem will only get worse over time.
In the picture below there is black mold in the kitchen cabinets and in the walls. This was caused by a roof leak.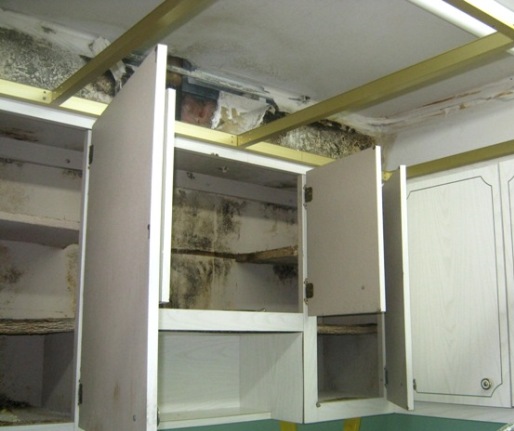 Paying Mold Remediation Costs
As you can see, mold removal cost can be significant. Sometimes homeowner's insurance will cover at least part of the cost, so contact your insurance company to find out.

Why You Should Have A Free Consultation With A Mold Removal Specialist:
A mold removal specialist will visit your home at no charge to assess the situation.
A mold specialist may be able to find mold that you have missed, which is important because if you miss any mold, your mold removal efforts will be in vain. When mold is visible on walls, floors, or ceilings, there is often mold growing in places where it cannot be seen as well, like inside walls, under carpet, or inside heating and air conditioning ducts.
A mold removal specialist can advise you about the best products to use to remove mold in your specific circumstances.
A mold removal specialist can also advise you about safety precautions that should be taken during the mold removal process to prevent further exposing yourself and your family members to potentially hazardous mold spores.
The consultation is free and you can gain valuable information even if you end up choosing to handle the mold removal job on your own.
For a list of qualified mold removal specialists in your area, just follow this link.

---
Return From Mold Remediation Costs To Our Main Cost Of Mold Removal Page

Black Mold Health Symptoms Home Page