Landlord Blames Us For Mold
by Joanne
(NSW Australia )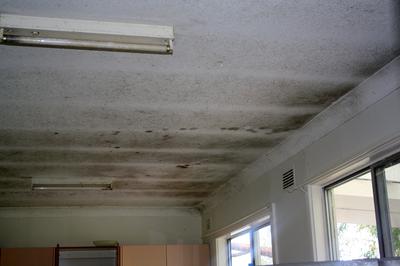 Mold kitchen
Back in September 2011 we rented a house we though was nice. It was fresh painted but I remember thinking OMG this smells like mold killer!

A few months into the lease, I noticed patches coming through the kitchen ceiling. The landlord knew they just didn't want to do anything about it; they told us to use vinegar and a micro fibre mop and get it off. They said open windows, and be clean! I couldn't believe it.

It got worse and worse, I got sick, the kids got sick and my partner went to hospital several times with what was believed to be chronic fatigue. I saw the doctor for the mold because i was worried.

Now, we have vacated, and they want 5000 compensation and my bond because of this. The condition report wasn't filled out properly leaving clean "unticked", or me agreeing "unticked." She made me sign it before I went through, BUT I never was given a chance to keep the condition report nor did I get a copy. They are claiming the walls were a mess taking days to wash the mold off with vinegar, washing the curtains and bleaching them to put back on!

These people have no idea how toxic mold is and I am trying to fight them. I have permission from the new tenants to allow a person through to test the mold in the roof. I need to find someone not too expensive who can give a report and find out the type of mold we are talking about. BUT we were forever sick and if the test comes back that its toxic or anything else, we will seek litigation for time off work, and everything else. I wont stop fighting until we get justice.