Family Developed Asthma From Moldy Sofa
by Jennifer
(Boston, MA)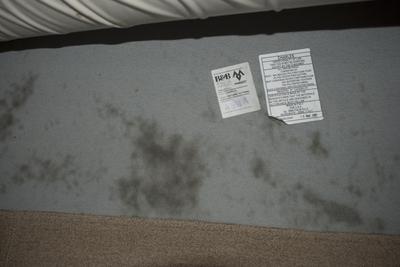 What appears to be black mold growing on seat frame foam.
I recently discovered mold growing on the frame cushion of our sofa. After discussing the issue with several specialists, I have yet to pin-point the cause of the mold, except to speculate that the mold was in the foam from the beginning.

What I do know is that in the time that we have used the sofa, both boys have developed asthma, and I have have terrible allergies which ease when I go on vacation. Was it the sofa? Are we now impacted for life, or can our bodies heal if we get rid of the moldy sofa?


Reply
Jennifer, you mentioned you have spoken to several specialists, so I'm assuming they have advised you to remove the sofa from your home. You need to have your house inspected and tested for mold. If you don't know of a professional mold tester, you can use this form to get a free list of
professional mold testers
in your area. You need your home to be thoroughly inspected, as well as tested by a qualified professional.
If mold is present, the mold tester can advise you on what cleanup procedures are necessary. The tests will also tell you what type(s) of mold you are dealing with.
As far as your family's health is concerned, you need to speak with your doctor to get an accurate diagnosis. You can read more about the
symptoms of toxic mold exposure
here.
I urge you to do all of this ASAP.
Brian