Safely Clean Black Mold

If you have found black mold in your home, it is important to be careful when you clean black mold because it can be harmful to your health if you don't follow the right steps. Removing black mold completely takes several steps, and skipping any portion of the cleanup process can result in future mold problems.

Prevent Cross Contamination
The first step when you begin the process of removing black mold is to quarantine the area in order to prevent the mold spores from moving into other areas of the building. Plastic sheets along with duct tape are perfect for sealing off the room, and a negative air filtration unit should be used to prevent the mold spores from migrating to other areas of the building.
Also, be careful about the clothing that you are wearing. It is important to wear a mask to prevent inhalation of the mold spores when you are removing black mold, and don't wear the protective clothing through the rest of the building because you may inadvertently carry the mold spores into other areas.
Get Rid of the Mold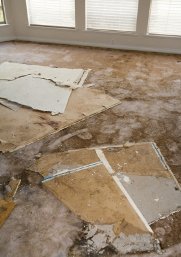 If there are any porous materials such as fabric, ceiling tiles, carpet, curtains, sheetrock, insulation or furniture that contain mold, those items will likely need to be discarded and replaced. These waste materials should be double bagged to prevent the mold spores from spreading, and thrown away.
If any of the materials need to be cut, you should spray the items with water first so that the mold spores will not become airborne. When you are done you should use a HEPA filtered vacuum to clean all surfaces including walls, ceilings, floors, etc.
You cannot just simply clean black mold with a standard household cleaner, because it may not remove all of the mold. Instead, you should scrub and remove as much of the mold as you can with a cleaner, and then use a biocide to kill any remaining mold. An excellent biocide for mold is Foster 40-80, which cleans, disinfects and deodorizes.
After the mold has been remediated and the porous materials have been removed, the area needs to be dried completely before rebuilding. It is also a good idea to coat the area that was affected with a sealant such as Caliwel primer and paint to prevent the any remaining mold from growing again.
Also, keep in mind that airborne mold spores may have moved into the HVAC system, and it is best to have a professional clean the vents in order to prevent the mold from moving through the ventilation system. A good filter should be used and replaced often in the HVAC system to catch any mold spores that may be leftover.
Professional Services
This is a very brief overview of a few of the steps that need to be followed to clean black mold. There are other products and cleaning procedures that can be followed depending on the severity of your mold problem as well as the area that is affected by the mold.
If you have a mold problem in your home or business, the best way to approach the problem is by consulting with a mold specialist. They will advise you on the best way to remove black mold in your case, and show you how to prevent having these problems again in the future.
We recommend using a professional to do the cleanup work. Removing mold is a lot more involved than most people realize and professionals have all the right equipment and know which techniques work best in different situations. However, even if you prefer to do the work yourself, you can schedule a free consultation with a professional. You'll get some free information and advice about the best way to do the job. Follow this link to find mold removal professionals offering free consultations in your area.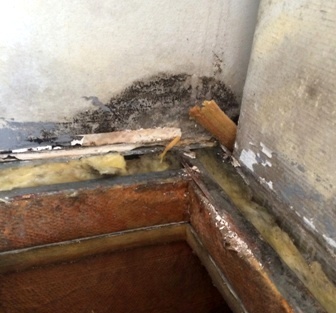 Black mold on walls and trim

---
Return From Clean Black Mold To Our Getting Rid Of Black Mold Page

Black Mold Health Symptoms Home Page